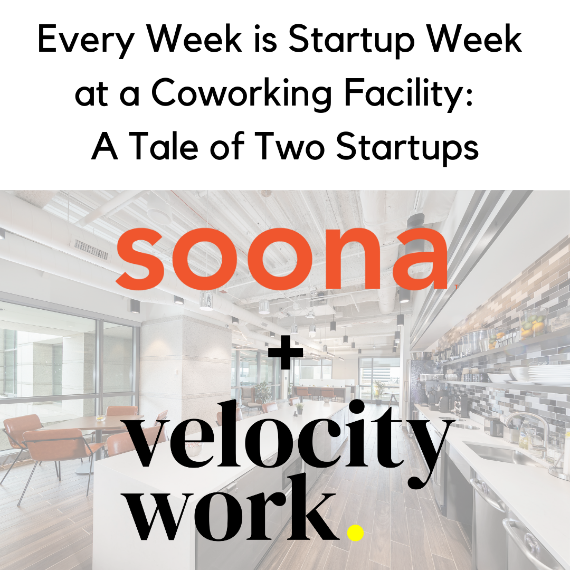 Owners of co-working and flexible office spaces often have the best view of the startup world in action, for within their walls resides numerous entrepreneurs, risk takers and get-'er-doners, all of whom are at varying stages in their journey. Here are some of their stories.
soona - Create More for Less.
soona Co-Founders Liz Giorgi, CEO and Hayley Anderson, Chief Product Officer have started something special! soona recently landed $10.2 million in venture funding to further their vision to bring their customers' products alive and provide great full time studio jobs to an industry that was founded on freelance labor. soona was founded on drastically reducing the cost of creating great content like photos, video, stop motion, gifs, and props for ecommerce stores and marketers. As marketers know "Content is King."
HQ for Liz and Hayley's soona team is split between Denver and Minneapolis where they are building their creative teams and their product and engineering teams, respectively. . Liz, who has founded two startups, understands that talent drives a company's success. Their expansion has been driven by tapping into pools of creative talent that haven't had as many career options in their markets.
Jess Lane, Director of Finance, found her introduction to soona after a great learning session provided by Denver Startup week. When asked what one of the biggest learnings was from being at a very fast-growing company, Jess stated "turning No's into Yes's." Tenacity and a can-do attitude will make the dream work! Also, as the head of finance, she states entrepreneurs should be laser focused on the business mission and objectives with the goal of managing cashflow. To finance "Cash is King"
What would Liz and Hayley mark as one of their biggest accomplishments "Getting our first studio off the ground in 2019 still stands out as the most incredible memory. We had no idea if we would be able to do it and we did. Now all the little victories that add on top of it feel like they are building on that one big, brave decision." Making bold decisions, showing tenacity to win, and having the grit to stay with it paid off. Many entrepreneurs face this same decision and question if they can succeed. Take it from soona that it is possible!
While we can agree soona faces many more challenges, their team is strong, the company well-funded, and their gritty attitude is all about driving success. soona partners with Venture X Denver South on Colorado Blvd. to provide flex space during these uncertain times. Jess notes that soona outgrew their space but did not know what was next, so they looked for flexibility. Venture X's professional workspace fit our needs and the image of our company. We now have over 23 people at Venture X, who split their time between working from home and at their shared workspace, part of the new hybrid model that fits hand in glove with the coworking model.
Velocity Work - Strategic planning + accountability for law firm owners.
Velocity Work was founded in January 2018 by Melissa Shanahan, a former consultant at a large firm who had spent many years helping CEOs with strategic planning, goal setting, and refining their companies' visions, missions, values, and processes. One and half years into venturing out on her own as a business coach and consultant, she was struggling to take her business to the next level. One day, she wandered into a seminar, much like many of us will find ourselves during DSW 2021, and the woman at the front of the room sternly and confidently stated, "If you have not chosen a niche for your business, then you should get up and leave right now, because I cannot help you." In that moment, that split-second, she made a decision and committed to focus her practice on helping law firm owners exclusively to build the often-neglected business side of their practice. And what ensued was more than Melissa could not have previously imagined. Her business grew more in the next two months than in the prior year and a half.
When asked about the biggest hurdle to starting her business, Melissa had these pearls of wisdom, "The first phase is not for the faint of heart, and the real struggle is to keep going and not give up. Sometimes that means choosing what TO DO, sometimes that means choosing what NOT to do." She went on to say, "It is about focusing on the 100 small steps." Melissa calls these "turtle steps", the planned events that will get you to the goal, the financial win, the mission. She also cautioned, it's important not to get ahead of yourself, thinking you have a business before you truly do. If you haven't experienced validation, product market fit, and the financial win, you do not yet have a business and you must continue to take "turtle steps". Starting a business isn't a race, it's a marathon.
In 2020, when things started locking down, Melissa quickly realized her clients' focus would shift from growth to survival which meant her services may be quickly abandoned in favor of other priorities. But rather than turn her sights inward, she asked herself, "What can I do to be useful?" Melissa set up a daily accountability call for law firm owners, a place where they could check in every day, talk about what they had accomplished the prior day, what came from it, and set a goal for that day. Yep, "turtle steps". Melissa showed up every day for her clients, giving them a safe place to calm the chaos, think clearly, and focus on the present. This daily call has since grown into a following of nearly 350 law firm owners, and a successful podcast that she continues to do from her private office at Venture X Five Points.
This year, Melissa's series of turtle steps brought her to a new goal, to take her business once again to the next level, by leaving her home office and establishing a presence for Velocity Work. She decided right away that co-working was the right solution for her. Melissa was looking for culture, community and access to other entrepreneurs and the energy all of that brings. "The minute I walked into Venture X Five Points, I said to myself, I have to be here, my clients have to be here, and it has been the best decision I made for my business." Melissa's private office allows her the headspace to think, to practice self-care, something she encourages all entrepreneurs to make time for. "No one else will do that for you, and no one else can or will provide that level of care. It's okay to be unavailable to the world for a few moments". She also has access to meeting space that extends that space to her clients, allowing them to focus on their vision, their mission, their goals, as she leads them through their "turtle steps" to success.
Melissa's advice to new entrepreneurs is this: 1) "You can't be focused on a quick hit, if you do, you will get hurt." She urges them to create month-long sprints – set a goal and work backwards, establishing daily "turtle steps" you will take to reach that goal, and check in every day. If you can't hold yourself accountable, find someone who will. 2) Focus on what you can do to be useful to your clients/customers, and you will be amazed by the results and the direction that presents itself.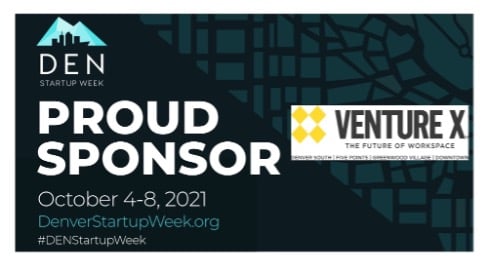 @denverstartupweek #denverstartupweek #startupweek #business #startup #entrepreneur #community #work #workspace #cowork #officespace #networking #venturex #denver #colorado #coworkingincolorado #coworkingindenver #coworking #coworkingspace #venturexdenver #denstartupweek
Related Articles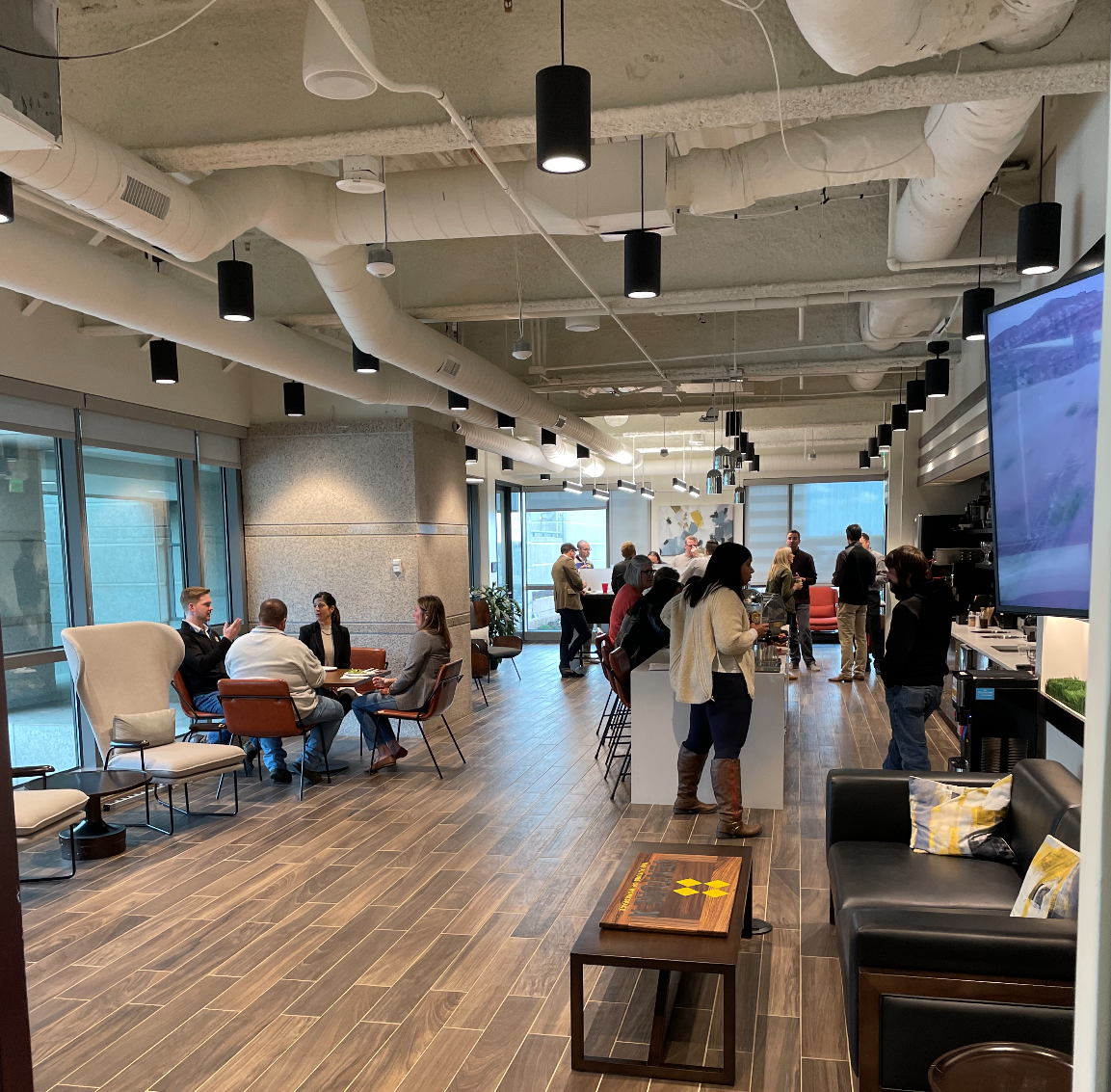 You're Invited to the VentureX Greenwood Village Holiday Party!
Venture X Greenwood Village would like to invite you to our Holiday Party December 1st from 3pm-6pm in...
Read More